Boost
your member community

with digital solutions!
Professional associations: find out how to easily boost your member community with the Eudonet CRM and Netanswer combo.
The spread of digital uses has changed the way we communicate, work and stay informed. As a result, association members aspire to more direct interaction and demand an active voice in their relationship.
In this white paper, you'll discover:
How to build member loyalty through events
How to stay connected with your peers through the virtual
The importance of collecting data to animate your community
And how to go even further in animating your member community!
Would you like to improve your community management too? Then download this free white paper dedicated to you!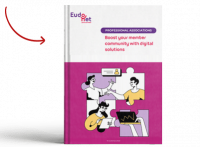 Pourquoi utiliser Eudonet CRM ?

Centraliser et
partager les informations

Favoriser la communication entre collaborateur

Communiquer plus régulièrement avec votre écosystème

Automatiser
les tâches administratives
Eudonet CRM,
plus qu'un logiciel…

?