Professional Organisations: Membership Renewal
From annual data collection to invoicing
As a Professional Organisation, your mission is to promote the interests of companies in your sector.
In fact, companies join your organisation in order to be represented and heard. Your members therefore pay a subscription in order to benefit from your representation but also from services with high added value: legal advice, events, training, etc.
Their membership defines the amount of the contribution and its conditions.
The renewal phase is an intense and crucial period for your organisation. Thanks to a CRM dedicated to Professional Associations, this task is made easier. This scalable solution allows you to automate the entire process from data collection to invoicing.
In this document, we guide you step by step through this process in order to optimise the renewal of your members subscriptions.
Enjoy!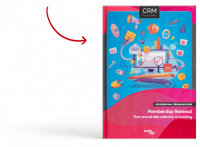 Want to know more?
Download our white paper!

Centralise and share information

Improve your internal communication


Automate your daily key tasks